Some of you may know I like the occasional ice cream…. Here are some I have enjoyed over the years…..
At Oundle today, a Pistachio waffle cone. 10 out of 10 for this one!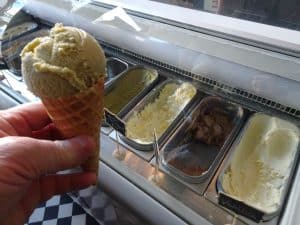 At the Crispin, Great Longstone only yesterday…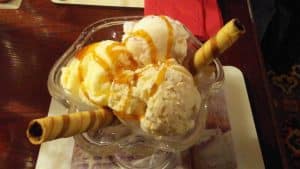 May 13th, Cannock Chase, a rather nice single scoop chocolate waffle cone. With Jane, James and Rach.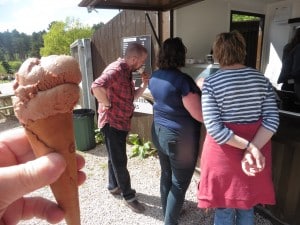 This is a new journalistic idea: the Life of a Cone. The cone in question was a single scoop waffle, filled with Eton Mess ice cream,( a first for me.) The story shows how the cone was devoured while walking around the exhibits at the Yorkshire Sculpture Park today. Enjoy.
At Barrow Hill Roundhouse, I have to admit to having three today, all waffles, small though, not large. First, a chocolate, then a plain, but with a flake, then another chocolate.I had parked my Mog quite close to the van…
This weekend's ice creams: a waffle cone with flake and nut sprinkle bought from a van by Formby bowling green was a leaker, despite wedging the pointy bit against my fimger, but boy, did the choc dipped waffle cone, with flake and choc sauce bought from the van at 'Another Place' make up for it….
The weekend before, we had been to Chatsworth Country Fair, where a single cone bought from a van was, at £2.50 on the expensive side, especially for a small single cone. However, those bought from Chatsworth's own outlet were waffle cones, and over the couple of days, I enjoyed toffee, banana and chocolate ones.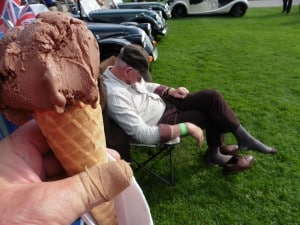 Wandering around Sheffield city centre the other day, bought this from a van on Fargate. Waffle, whippy, flake and choc sauce.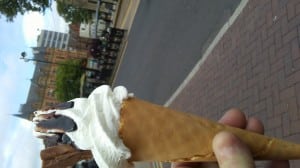 sorry about the sideways pic
At Carsington Water, I enjoyed a superb waffle cone, a two scooper, one generous butterscotch, the other rocky road. You really cannot better a two scoop waffle cone. Unless it is a three scoop, of course.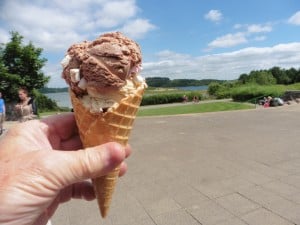 We went recently on Scotland's NC500, and I have enjoyed some rather nice ones… they are the last ones in the gallery… silly website did not work how I wanted it to. Scroll down!
Drive it Day, I enjoyed a chocolate waffle cone filled with malteser and rum 'n raisin.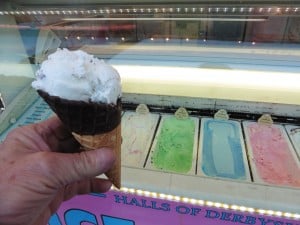 However, the first of two Cornettos today broke as I unwrapped it, however the subsequent one was fine.
At Curborough Sprint Course, for the MSCC  Taster day, a rather nice waffle cone,with chocolate sauce, and nut sprinkles. Lovely!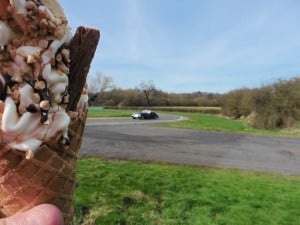 And just a week later, at a private track session..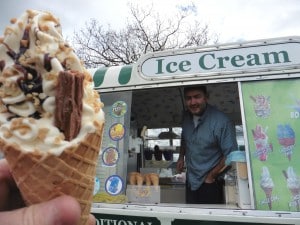 And at Bromyard Speed Festival… a bubble gum flavoured cone, then a caramel cornetto…
At Nottingam University's Lakeside, I had this little beauty… a chocolate waffle cone, with chocolate squirty, and a nut sprinkle. Best ice cream of the week.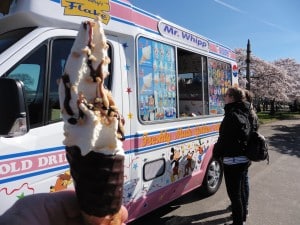 This was today's, 22nd March, a Cornetto, at Wollaton Hall: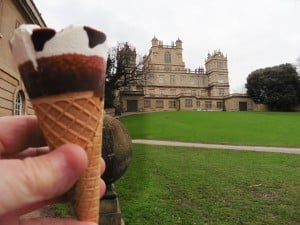 And in Nottingham city centre, today 24th March, a bargain 50p cornetto.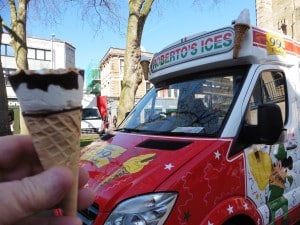 Here are some more, though not all eaten at the same time. See if you can guess where the pics were taken.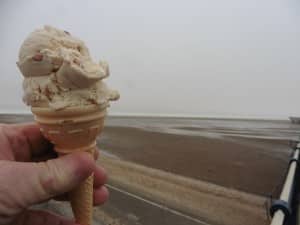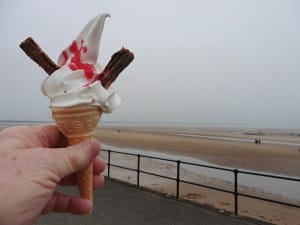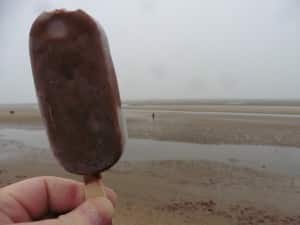 I hope you have enjoyed looking at the photos. My favourite, should you want to buy one for me, is in a chocolate-dipped waffle cone, as long as the pointy bit does not drip melted ice cream over me.