Superb walking weekend organised by John Wislon, aided at the planning stage by Steve Bloody Browne. Great walking, great company, great hotel…. ok ale! Nice weather too.
The schedule was:
Friday 23 March:
The first walk is about 7 miles from Glyndyfrdwy Station to Llangollen taking in Vivod Mountain. We travel to the start of the walk from Llangollen by steam railway.
The meeting point for walkers, therefore, will be Llangollen Steam Railway station in the centre of Llangollen. There is plenty of parking in the vicinity.
The train departure time is 13:00. The train journey is about 20 minutes and costs £6.40, £5.35 for seniors.
We cannot book online or by phone for short single journeys and we are not a big enough group for a group booking. Therefore, let me know asap if you are doing this walk and I will arrange for early arrivals (Rich / Neil going a couple of days before) to get the tickets.
Saturday 24 March:
10 miles including canal towpath, ancient Castell Dinas Bran, spectacular aqueduct and the Panorama section of the Offa's Dyke path. Walk starts at the hotel so no cars needed.
* actually, the distances were a tad out! First day was about 10 miles, second day about 12….
the pics show various arches, stretches of water, and various blokes having a wee!
this pic from Jono Dunn, he asked 'Where's Jack? Has he fallen in?'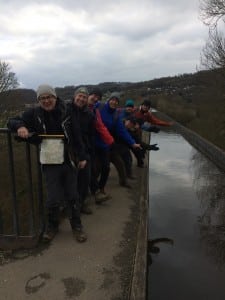 looking forward to the next outing with the lads, maybe another pub walk around Dronfield later on in the year. Cheers all!